Jelle did it again! He wrote Funes as an Objective-C learning app: a one-purpose application to rate your iTunes songs form the menu bar. It's Mac OS X Leopard only at the moment but he is working on a Tiger compatible version as well.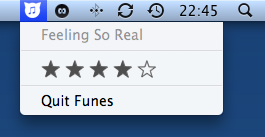 Used with permission from the Fousa.
I was quite skeptical when he submitted his application on the Apple website, the surely must be a few 100 applications like this out there... no? Well, it seems there isn't and Funes was an Apple staff pick right away. The next day Lifehacker and Simple Help featured his application, impressive.
Lifhacker reader dpseal notes that you can rate songs with a right click on the iTunes icon in the dock as well. This tip is even easier as the little Funes application. Other ways are ratings with Quicksilver or GrowlTunes.
Grab a copy to see it yourself...