Villa Empain, Brussels
Visit to Villa Empain, Art Deco in Brussels.
Baron Louis Empain, the second son of Édouard Empain, was interested in Art Deco architecture. At old he commissions Michel Polak, a Swiss architect living in Belgium, to build a villa at Avenue Franklin Roosevelt 67 in Brussels. Construction finished later in . Louis only lived here for 6 months before moving to Canada. He donates the property to the Belgian state in intending to open a museum of contemporary decorative arts.
The outbreak of World War II decides otherwise and the villa is occupied by the Germans in . After the war, the villa is used as the embassy of the USSR, not to the liking of the Empain family, who retakes ownership in the . The villa changes owners many times over the following years. In the the villa is deserted and falls in disarray. In the Boghossian Foundation renovates the villa and, , opens it to the public.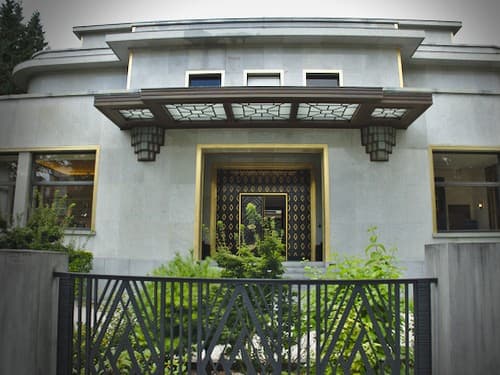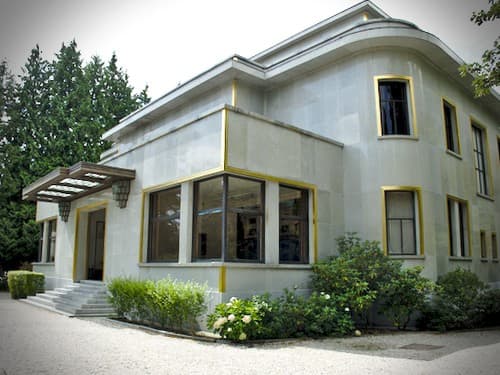 Villa Empain

Museum

Today the museum can be visited daily (except on Mondays) between 11am and 18pm. Tickets are €10, entrance for kids under 12 is free.

The museum shop at the entrance used to be the office of Louis, the secretary's office opposite is not open to the public. The centrepiece of the ground floor is a large atrium with an impressive view on the swimming pool and garden, giving access to the "salon d'honneur", "salon intime" (the museum's bar), and the large marble staircase.

The first floor has a children's room, the fencing room along the front of the building (furnished as a smoking room), a bathroom in blue mosaic, a guest room (furnished as office), the bedroom of baron Empain himself with balcony on the rear of the building, a second bathroom (no longer visible today, empty) and next to it, Madam's room.

The basement used to house the kitchen but is now used as an exposition hall.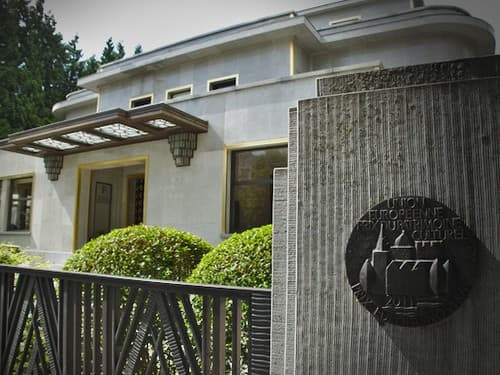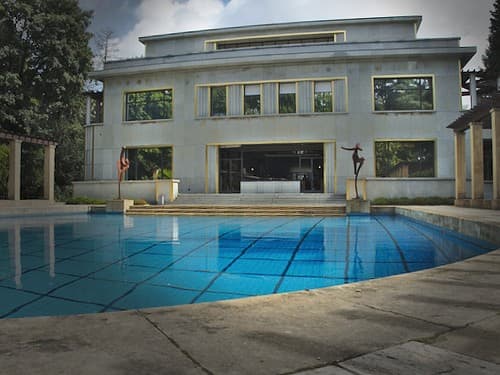 Baron Édouard Empain
Baron Édouard Empain, the father of Louis, was a wealthy Belgian industrialist and amateur Egyptologist. He is known for building the Paris Métro and a new city: Heliopolis, now a suburb of Cairo where he also build a palace (the Palais Hindou). His wealth came from the metallurgy sector: his enterprises built tramlines in Russia, China, Belgian Congo, and Egypt. He even founded his own bank.
Villa Trivia
The large swimming pool in the backyard was high tech back in , it's one of the first private swimming pools in Belgium.
There is a "hidden" staircase from the "salon intime" (cafetaria) to the first floor, a way for Louis to discretely leave a party.
The graffiti from before the restoration is still slightly visible in the main staircase.